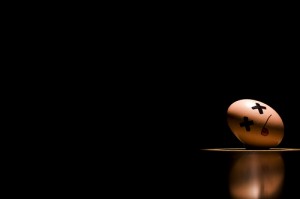 Well, our experiment with incubating hen's eggs has ended at the compost pile.  Four weeks and you know it's been too long, though Elysia stayed patient and true.  Our confidence was bolstered around the two-week mark, when we candled the eggs and saw all the positive signs we were supposed to in at least half the eggs.  But in the last week we had several mishaps.  First, the light bulb in our makeshift styrofoam-cooler incubator burned out.  Next time around, I'll install a car alarm to go off when this happens, but we didn't know how long the eggs had gone dark.  They weren't freezing cold, as the temperatures outdoors were HOT, but they weren't 102 degrees either, as required.  And then, on a day when it was in fact 102 outside, we forgot and left the light on with the insulating blanket in place, and–this may have done it–the temperature in the incubator reached 120 degrees.
Still, Elysia wanted to wait.  And though I was nervous about one of the less-successful eggs exploding in the meantime, we gave it another week.  Nothing.  So yesterday, your correspondent, in his role as daddy, asked permission and then discretely transported the ten familiar eggs with their felt-pen markings down to the compost pile, which is running at over 140 degrees, what with all the fresh grass clipping mixed in.  I used the fork to make a steaming hole in there, dropped the eggs in and mashed them unceremoniously (no undue stink, I'm happy to report) and then covered them.
Argument now is whether to wait till next spring, as it's late to start chicks in August when they'd be due: it's hard enough to introduce new birds to the flock without the weather forcing your hand.