Comments Off

on A Reality Show You'll Love. No, Really.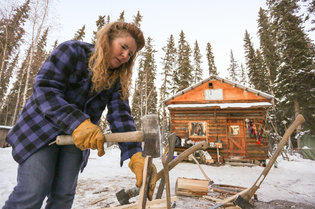 I'm not a big reality TV person, though we did watch the first season or two of "Survivor" (ironically at first, with cocktails aplenty, but then honestly into it, caught up in seeing if Richard Hatch could lie his way into the winner's circle), so it was partly out of obligation that I tuned into my friend Jim Campbell's new show, "The Last Alaskans." But by the time the first scene ended, I knew something different was going on than the usual reality fare–"Hey, Mildred, look at this idiot spearing a catfish!"–and I soon understood that I was witnessing something beautiful. The scenery was one of the stars and real star, Heimo Korth, was funny,soft-spoken and smart. The pace wasn't frenetic and Heimo wasn't required to throw a hatchet that would hit a target that dropped another trapper into a dunking booth. Instead he talked about the challenges and pleasures of living on the land.
Listening to Heimo felt a little like listening to an old friend, since I had gotten to know him in Jim's fine book, The Final Frontiersmen. But I didn't know Ray Lewis, who speaks like a mountain man crossed with a poet, or Bob Harte, who at first seems like comic relief but turns out to be more than he first appears (part of that more being he is a lot of fun).  In just one small example of how the show flouts the usual reality conventions there is a nice moment when the usually invisible cameraman tells Bob that one of his plane's wheels hit the water during a landing.  Somehow this breaking through the wall seemed more real than reality,a natural thing that someone filming up in the middle  of nowhere would say to the person being filmed.  It's just one of many examples of how this show is better than the rest of its kind.
And if you don't believe Bill and Dave's, listen to the NY Times rave:
"Where Alaska-based shows about truckers, pilots, gold miners, fishermen or survival-competition yahoos tend to be characterized by humans-against-nature bravura, this one thrives on sensitivity and solitude. It's about the handful of people who still live at least part of the year in the Arctic National Wildlife Refuge in northeast Alaska, their right to do so grandfathered in."
The rest of the rest of the review is HERE.
And an even more glowing appreciation from Bill and Dave's new buddy, the Wash Post:
"So hear me out as I describe the exquisite and sometimes melancholy effect of watching Animal Planet's 'The Last Alaskans,' a superb, eight-part docuseries premiering Monday night. Without overblown narration or any of the other heavily produced tropes and techniques that viewers associate with the genre, 'The Last Alaskans' quietly settles in with some of the last legal residents of the Arctic National Wildlife Refuge."
What happens next? Not a whole lot, except for a patient rumination on the themes of independence and solitude in nature, minus the posturing and usual yammering about the Second Amendment, snow machines, gold fever, etc."
Read the rest HERE.
So,watch it! Next show is Sunday night.