I am teaching my graphic novel class again at UNCW and somehow, mysteriously, only have 3 students enrolled. Please help me out and spread the word. I mean wtf? It's a graphic novel class. Here's a blog from the last time I offered it:
Last fall I taught a course on the graphic novel.  I'm pretty sure it was the first time I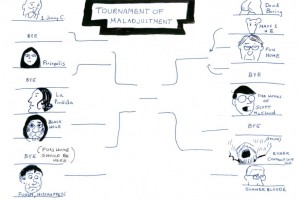 taught a class where the students clearly knew more about the subject than I did.  This was by plan.  I'd been a cartoonist in college and when I decided I wanted to return to cartooning, and to possibly write/draw a graphic novel, I figured I had better educate myself in the genre.  What better way to educate myself, and to force myself to read, than to teach a course to grad students?  And it worked–for me at least.  (The students may tell another story.)
It turned out I learned a lot, in large part thanks to my students, and next time round I'm sure I'll do a much better job.  But the funny thing is that while I had only read two graphic novels when I first conceived of the class, it was these novels that still stood tall at the end of the term.  I guess it should come as no surprise that these novels were Art Spiegelman's Maus and Alison Bechdel's Fun Home. But the class did hold surprises, and one of the primary ones were the books of Scott McCloud, Understanding Comics and Making Comics. I know McCloud already has a huge following but it should be even bigger,more general and less restricted to the genre.  The guy is smart and Woody Allen self-conscious/funny and talented with a pen (even if he mostly uses a computer) and brilliant and lots of fun.  He did well in the "Tournament of Greatness"(TOG) we held at the end of the term, though I seem to remember his books losing to Maus in the semi-finals.  The other semi-finalist was the powerful Persepolis by Marjane Satrapi (though my memory is faulty and it may have been Black Hole by Charles Burns.) While Persepolis and Maus are obviously political and even historical, this was not the case with most of the books we read in the class.  In fact most of the books were peopled by self-conscious, adolescent sexually-obsessed  losers, which in a way is all of us, but, on the other hand, if we have survived past thirty and stopped doing bong hits, is none of us.  So they are fun to read, a trip down a pimply memory lane, but not GREAT.  Which led to another tournament: the "Tournament of Maladjustment. " (TOM) While the Tournament of Greatness was about the power of the books, the TOM was about which characters in the books were most fucked up.  Jimmy Corrigan: The Smartest Kid on Earth by Chris Ware, was the winner hands down in the maladjustment category, and also won me over in the end with its sheer non-linear strangeness.   The butt-obsessed David Boring by Daniel Clowes also scored well in the TOM, as did all the characters in Summer Blonde by Adrian Tomine, and both of these books are well worth reading. Another strong contender in that division was Funny, Misshapen Body by Jeffrey Brown, with its author's Kerouacian philosophy of "first draw, best draw" and his firm belief that every thought that comes into his head is worth recording.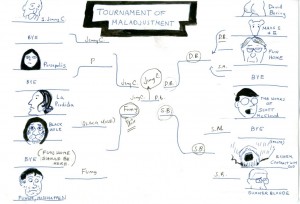 Tournaments aside, I was truly impressed by the quality of the work and just how engrossed I got in the reading.  Maybe McCloud is right when he prophesizes a shining future for the graphic novel, and a future synthesizing of art and writing that reaches a level of art we have not yet seen.  When McCloud points to the past, not the future, he often pays homage to Will Eisner, one of the genre's founders, and while the class sometimes found reading him was like watching a classic movie from 1936, where they had to nod and say "brilliant" when they were really bored, in the end they at least appreciated the man's books.  Honestly, about the only book that the class really turned against, and that didn't really do it for me either, was La Perdida by Jessica Abel.  I report this with some hesitancy,  both because it's a little mean to Abel and because it was recommended to me by Mark Lynch, public radio host of  the show Inquiry , birder, and reader of literature extraordinaire (whose taste is otherwise.) impeccable.)  And who has a gret interview with Art Spiegleman here. 
Syllabus from the course:
Graphic Novel Syllabus
David Gessner
Course Description
The main goals of this class are to give you an overview of the genre of graphic novels and to give you a language to discuss this emerging form.  To achieve these goals we will read from a broad, though admittedly far from comprehensive, range of graphic novels.  Secondarily, we will work on our own graphic projects.  It should be stressed that no art background is required for this.  Stick figures are okay.
What is Required of You
1. You will each teach one class.  On the first day, we will pick the names of the books out of a hat to determine which author you will teach.  You are required to make yourself something of an expert, not just on the specific book but on your author. We can't all be expected to read the other work that these writers/artists have done.  Since the reading is generally light (it just takes a couple/few hours to read most of these books), consider "your" week the one week where your reading will be heavy.  (Don't worry, you won't be entirely on your own since I am, technically, the teacher.)
When studying these authors you should, as well as considering scholarly questions, consider creative ones.  Is there something you could steal from this author for your own work?  How is this work like and unlike work you might want to do yourself?
2. You will be asked to hand out four or five questions for your classmates the week before the class when you teach.  These should be probing and interesting and should, as well as exploring this particular author's work, get at some of the general characteristics of the genre.  How is the book you are teaching like and unlike other things we have read?  How does it go with, or against, the grain of what we have come to expect from graphic novels?
3. You will be asked to answer the weekly questions and to be a lively class participant.
4. You will be asked to work on your own creative graphic project.  You don't need to draw or use the computer (though you can).  You are not expected to write a graphic novel, but you are expected, as creative person, to react creatively to the work we read.
At some point you will discuss your project with the class, and we will have a brainstorming session specifically devoted to your project.
Reading/Teaching Schedule
August 24
Course Introduction
Pick out names from a hat (with trading period)
Questions handed out on Maus
August 31
Discuss Maus and hand in answers to questions
Hand Out questions on Fun Home
Read Fun Home for next class
September 7—NO CLASS
September  14
Discuss Fun Home/hand in questions
Hand out McCloud and Contract questions
Read McCloud's Understanding Comics and Eisner's Contract with God for next class
September 21
Discuss McCloud and Contract/hand in questions
Hand out Black Hole questions
Read Black Hole for next class
September 28
Discuss Black Hole/hand in questions
Hand out La Perdida and Eisner questions
Read La Perdida and Eisner's Comics and Sequential Art for next class
October 5
NO CLASS
October 12
Discuss La Perdida and Eisner/hand in questions
Hand out Summer Blonde questions
Read Summer Blonde for next class
October 19
Discuss Summer Blonde/hand in questions
Hand out David Boring questions
Read David Boring for next class
October 26
Discuss David Boring
Hand out Persepolis questions
Read Persepolis and answer questions for next class
November 2
Discuss Persepolis
Hand out questions on Making Comics
Read Making Comics and answer questions for next class
Brainstorm sessions on our own comics
November 9
Discuss Making Comics
Hand out Jimmy Corrigan questions
Read Jimmy Corrigan and answer questions for next class
Brainstorm sessions on our own comics
November 16
Discuss Jimmy Corrigan
Hand out questions on Funny, Misshapen Body (not in bookstore) by Jeffrey Brown
Read Funny, Misshapen Body and answer questions
Brainstorm sessions on our own comics
November 23
Discuss Funny, Misshapen Body
Brainstorm on our own comics
November 30
Last Class
FINAL EXAM MONDAY DEC 7