May 09
Guest contributor:
Hones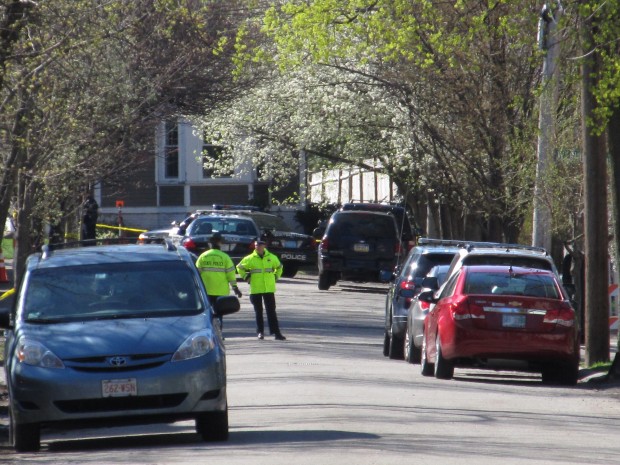 Greetings all Bill and Dave's readers.Dave has been trying to get me to write this since the night the 2nd Marathon bomber was captured,but alas,I'm not a writer and have none of the discipline that true writers possess. I do,however,possess  tremendous discipline to put fishing above almost everything else I do. So that's my excuse.I've been busy fishing.
       21 Blocks
I have lived in Watertown,Massachusetts for 21 years. I love Watertown. Even though it's only 5 miles from downtown Boston it has a decidedly non-urban feel to it. Quiet neighborhoods are home to people of all ethnicities where at no time have I ever felt threatened or concerned for my safety.
On Monday April 15th  I left my apartment at 1 pm and drove 30 miles west to meet a good friend of mine who was up in the area on business and go fishing at Wachusett Reservoir. Not only is Wachusett my favorite place to fish, the reservoir also supplies the city of Boston and my town as well with our drinking water. We fished all afternoon and into the evening oblivious to what had happened at 2:50pm in Boston. Only after getting to the hotel at 9 pm did we find out about the bombings at the Boston Marathon. Shocked and horrified we sat glued to the tv screen while being brought up to date about the events of that tragic afternoon. All we could do was shake our heads in disbelief and feel bad for those who were killed or injured. Not a great night.
The next  2 days, the 16th and 17th,  we also went fishing because that was our original plan and we weren't going to change it. While I was concerned, appalled and angry about the bombings I was at that time far enough away not to feel threatened. All that changed beginning the night of the 18th when I was back home in Watertown.
I remember being half asleep the phone ringing and on the answering machine hearing an automated message from the Watertown Police saying that there was an "active incident" and for all residents to remain in their homes. I thought to myself "great, I'm already in my home" and fell back to sleep. It never dawned on me that they might be talking about the search for the bombing suspects.
On Friday the 19th I woke up at 6:30 AM  fired up to go fishing out at Wachusett. I made coffee and sat down to check out the weather report  on the local news. The first thing I saw on the screen were the words NO ONE ALLOWED IN OR OUT OF WATERTOWN. That was when I realized what the phone message in the night meant and that I probably wasn't going fishing any time soon. So I did what probably everyone else in Watertown did, sat in front of the tv and watched the news drinking my coffee.  The news told us many things, first and foremost that in addition to Watertown the entire Boston Metro area was under a "Shelter In Place" order from the Governor and that meant not leaving your home or looking out your windows and NOT answering your door to anyone except a uniformed police officer. I vetoed the no-looking-out-your-windows part almost immediately. I didn't see the fugitive storming my house, but I did see a very strange scene. The normal bustling of rush hour on the streets had given way to an eerie surreal silence. It was a ghost town. The townspeople had done what they were told which in this day and age was pretty amazing. I went back to the tv grabbing an old axe handle I had "just in case". The news was also telling us about the 20 square blocks that the cops had sealed off and were now conducting house to house searches with SWAT teams to ferret out the suspect. They seemed so confident  that the cops had cornered the suspect in this 20 block radius that a capture seemed  imminent.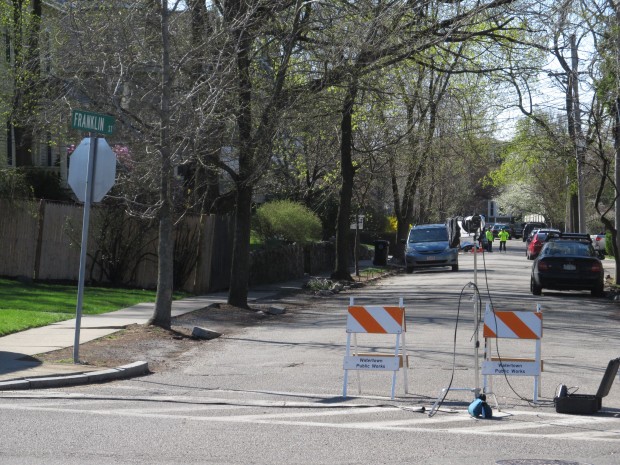 Great I thought, it's only 7:30 am. If they catch him soon I can still go fishing. Then the phone rang and it was Dave. He'd known about what was going on for hours and was anxious to get my front row thoughts on the situation. That turned out to be the first of many conversations we would have as the day progressed because hours passed with no word of an apprehension. Morning became afternoon, the methodical house to house search continued, but still the suspect eluded the searchers. Because the cops had seemed so certain at first as to the suspect's whereabouts that the more hours that passed the less confident  I was with their 20 block perimeter. Even the news reports were running out of new info. They were showing the same loops at 3 pm that they were showing at 9 am.
For the whole day my mood was upbeat. All the reports suggested that they'll get him soon. I was in regular phone contact with Dave and in between those calls I spoke to numerous other friends and my brother who called to check in. It was kind of a circus-like atmosphere that I had a ringside seat for. But the hours passed with no capture and from having all day to find him we were now looking at only 2 hours until dark. NO ES BUENO. Now I was really convinced that the suspect had escaped past their 20 block perimeter and with nightfall approaching  he would have a much easier getaway. Then with 1 hour until dark the authorities called a press conference to say that they'd exhausted their search of the area and the majority of the police,FBI, etc. were pulling out. They also added that the Shelter in Place order had been lifted so we civilians could go outside again, but to remain wary and vigilant. I was apoplectic! On the phone with Dave he could tell that my earlier "no problem they'll catch him soon" attitude had quickly changed to one with a lot more anxiety. I said to him, "what if he made it 21 blocks away?" "They've made us sitting ducks here and the next they hear from this guy is because he's killed someone else to get their car". I was pissed. Yet when I hung up with Dave I did what many of my fellow Watertown citizens did. I went outside and looked around my house to check for any signs of forced entry, but found nothing strange. I briefly spoke to a young couple walking their baby in a stroller and while we lamented the fact that there was no capture we agreed that it was nice to be outside.
Several blocks away in Watertown Square I saw a police car driving fast with its lights flashing going in what turned out to be the direction of where the final confrontation happened, but figured it was nothing because it was still light out and nobody hiding from the police would make a break for it until it was dark. Still angry that we had been strung along all day I went back inside my house, locked the door and grabbed a beer, drained it and grabbed another. I also quit watching the news and put on a rerun of the previous evenings Colbert  Report as darkness approached. I still had my trusty axe handle and figured that if someone was going to bust into my house then, well, they were going to get a beer buzzed sasquatch who didn't take kindly to intruders.  About 10 minutes into the Colbert Report , Dave called  with the news that the suspect had indeed been cornered by police. He had been hiding in a trailered boat [a fishing boat I must add] in a back yard of a home on 67 Franklin St. That's ¼ mile from my house and about 1 block further than the 20 block perimeter. He'd been found, not by the police, but by the boat's owner [a fisherman] , who when the Shelter in Place order was lifted went outside and noticed something different  about his boat cover. Awesome! To say I was relieved is an understatement. I slept very well that night. For one day my little town was the center of attention for an entire nation for a reason I wouldn't wish on anyone, but we caught the bastard! Did I tell you that I love Watertown?
Oh yeah, on Saturday I went fishing.